Women are getting online later than men leading to a growing technology gender gap. Alja Isakovic shares her story about working to narrow the gender divide in the world of technology.
Living without modern-day technology is almost unthinkable for many of us. I remember the thrill of the slow and chirpy modem connecting to the World Wide Web back in the '90s. Suddenly, I had access to more information that I could have dreamed; I was able to chat with people around the world, learning about different cultures first-hand.
It came as a bit of a shock when I realized many years later, that it is still unusual for women to be involved in this field today.
Technology is omnipresent in today's society; over 95 per cent of jobs now have a digital component. Though the 1995 Beijing Declaration called for the 'full and equal participation of women', ITU estimates that 200 million fewer women are online than men. In 2013, Intel predicted that without immediate action, this could grow to 350 million by 2016. [edited 17.04.2015] If women are not adequately trained, they will have reduced access to employment which could have further ramifications for their social, economic and political inclusion.
In this digitally permeated era, we can no longer afford to leave out 200 million women from the technology sphere. It is equally important to get girls excited about technology from an early age as it is to provide an enabling environment for women who find themselves lacking the technical skills to move up the career ladder or start a new career.
It would be great for the next big ICT enterprise to be founded by a female engineer; it would certainly help to inspire more girls to consider a career in ICTs. But in order to realize that future, we must ensure that girls and women receive the right support and encouragement to succeed in the field.
Girls in ICT Day 2014
Girls in ICT Day has truly been a global success. With companies, governments and civil society all playing their role in promoting and organizing technology training days for girls, we have seen a coordinated, global push to get young women and girls excited about a future career in ICTs.
Girls in ICT Day is a time when girls can assess the impact of ICTs on their own lives and gives them the opportunity to reflect on the importance of ICTs to their future careers. It is a day where girls gain hands-on skills in ICT development, and realize that coding, blogging, or app development is a fun and creative way to make a difference in the digital world.
Extract from ITU Blog, 'Girls Get Inspired on Girls in ICT Day.' Read more here.
Always Learning: Opportunities and Successes
I graduated from the first Media Communications degree offered at the Faculty of Electrical Engineering and Computer Science at the University of Maribor, Slovenia. The programme provided a nice mix of technical, social and design topics, but programming has always been a hobby. I enjoy tinkering with software and hardware, and exploring the potential of new technologies in my spare time.
During my studies, I became very interested in the field of e-learning and co-founded Artesia, a start-up to connect online communities. Though it didn't fare as well as I hoped, I ended up learning a lot. I met new people and it led me to various other opportunities, one of the most exciting of which was the chance to work with a local business accelerator to share my story with a new generation of start-ups, helping young entrepreneurs to avoid my mistakes and to share best practices. The experience also led me to my current job as online community manager at CubeSensors, a hardware start-up that measures vital environmental indicators such as air quality, temperature, humidity, and noise to help users understand how their home or office is affecting their health, comfort and productivity.
I also organize and teach free programming workshops with Rail Girls and Django Girls. In Slovenia, we had over 1500 applications for these workshops, which is an incredible number given our small population of two million! We have received a lot of support from professional programmers who volunteer their time to share their knowledge with us, though many of them were surprised by the number of women interesting in advancing their ICT skills.
Young Innovators Competition 2015
The Young Innovators Competition is an annual ITU Telecom Initiative, aimed at talented young social entrepreneurs using technology creatively to meet a range of real-life developmental challenges.
Our 2015 competition will once again seek the most exciting ideas or start-ups in response to four developmental challenges, running one after the other in the months between now and ITU Telecom World 2015 in Budapest, Hungary. Our unique interactive platform, powered by Crowdicity, is open to young people from anywhere in the world to engage with the challenges and to contribute, comment, refine and evolve ideas. Selected winners will join us at the event in Budapest for a four-day accelerator programme of pitching sessions, workshops and mentoring – as well as the opportunity to win seed funding.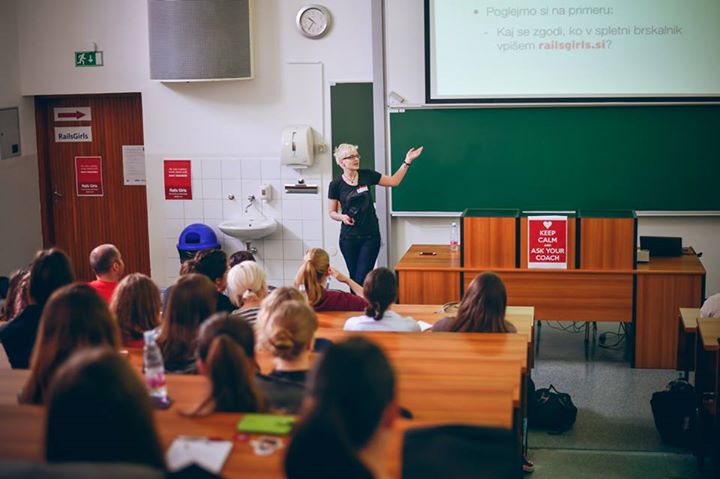 Working Together
In 2013, I co-founded CodeCatz, a coding study group that meets every Wednesday. We have tried to make learning to code a social activity – and I think that this plays a pivotal role in how many women participate. Removing the classroom format, we have developed a fun and friendly atmosphere where we learn from each other and work on interesting open-source projects. We also try to help each other by finding new job opportunities. Last year we organized and coached a few workshops in Slovenia and spoke at events abroad. This year we are helping to organize WebCamp Ljubljana, a conference for web developers.
One of my proudest moments with the group was building the EU Code Week events webpage. I learnt a lot in the process, and it was an amazing experience to see people from all over Europe submitting initiatives on a website that we build from scratch – seeing people use something that you have built for a good cause is one of the best feelings in the world!
GEM-TECH Awards
Co-organized with UN Women, the GEM Tech Awards were created to highlight the importance of ICTs as a tool for empowerment and celebrate those that have made outstanding achievements in the area of gender equality and mainstreaming through ICTs.  The awards were divided into seven categories recognizing the diverse ways in which women's empowerment can be promoted in and through ICTs.
The awards attracted over 360 nominees from 74 countries.  Each submission demonstrated the promise and potential of ICTs to change the world, both by helping women get into the sector, and using ICTs to empower themselves.
Read more about the event on the ITU Blog, 'Why GEM-TECH? Putting Gender on the ICT Map.'
Connecting Communities across Europe
Coding teaches people how to solve problems. I believe it is important for young people to have the experience of creating something on their own, not just play games and 'like' content that other people have created. By teaching our youth how to code, we are turning them into better problem solvers and giving them the expertise to better understand our digital world.
This belief led me to join the European Commission's Young Advisor programme, set up by Neelie Kroes. We are a group of young people who are actively involved in shaping the digital society. At a Young Advisor's meeting, I learnt about many wonderful initiatives to get girls and women involved in ICTs across Europe, such as CoderDojo and Rail Girls.  Unfortunately, although these initiatives have a big impact on local communities, people in the rest of Europe don't hear about them for reasons such as language barriers and a lack of enthusiasm in the mainstream media. We thought we needed to give these initiatives a bigger voice and encourage all of the great work that is being done across Europe to promote coding. That's why we launched EU Code Week.
EU Code Week is about teaching children and adults how to code and understand more about technology. We want to promote it as a new form of literacy and a skill that can bring your ideas to life. We want to show that coding can be fun and creative, and that it can provide great career opportunities, even for people who don't want to be full-time programmers.
The first Code Week in 2013 was a bit of an experiment; we only had about a month to promote the initiative, yet we still managed to attract 300 coding events in 26 countries across Europe, proving the huge demand for these type of events. Last year, we expanded Code Week to 38 European countries with the help of almost 100 passionate national ambassadors, and had more than 3000 events submitted to the website! It was wonderful to see the teachers and volunteers so enthusiastic about getting more people involved in coding.
We hope that EU Code Week will inspire the next generation of coders and help make Europe even more digital – and one day soon, every week of the year will be 'code week'!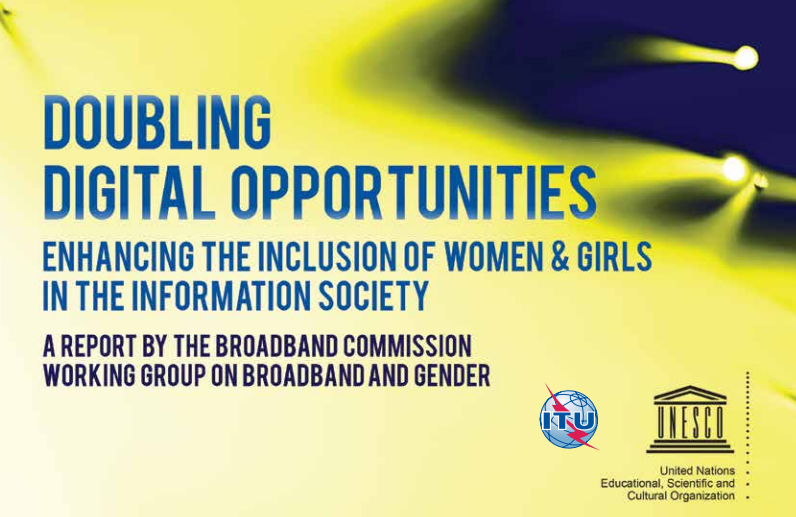 By summarizing the current disparity in global Internet access, the Broadband Commission's report by the Working Group on Broadband and Gender sketches some of the potential implications of gender gaps in access to the Internet.
What role can ICTs and the Internet play in advancing gender equality? Does the type of content online reinforce gender specific attitudes? How can ICTs shape the aspirations of the next generation of women and girls? Expanding access to, and proper use of, ICTs may solve this challenge, while at the same time increasing the efficiency of school systems, improving teacher training and resources, and extending learning opportunities beyond the classroom and to disadvantaged groups. Governments – in developing countries in particular – are urged to explore ways to bridge the digital divide and implement policies that encourage increased investment in ICT in education.
Engaging the '200 Million fewer women online'
The question of how we get more girls and women involved in technology – be that learning to code, innovating with ICTs, or just using it in their day-to-day lives – rests on making the field more inclusive. It's not something that is going to happen overnight, so we all have to play our part. We should all do what we can to make this field more interesting for young girls, and ensure that the industry is a more welcoming place for women who decide to make a career of it.