Though I've only been using it for the past decade or so, I can't imagine my life without the Internet. I rely on it to do my job, to connect with my friends, and keep up to date with news and events from around the world. But realistically, the Internet is in its infancy – we are only scratching the surface of what is possible. Current technological development is opening up new opportunities for how we connect with each other and the world around us. This increased connectivity will drive the evolution towards Smart Sustainable Cities, where services will be powered by information and communication technologies (ICTs) to increase environmental efficiencies and improve our quality of life. Things like turning your household heating on from your mobile device or commuting to work with a self-driving car will become a reality in the near future – and soon, we won't be able to imagine living life any other way.
I have been working to bring this 'connected living' to Argentina in various capacities over the past 10 years. As vice-chair of ICANN's Governmental Advisory Committee (GAC), President of ISOC Argentina, lecturer and electric and electronic engineer, I've helped to coordinate critical building-blocks including developing critical ICT infrastructures and policy in poor and rural areas, as well as the transition from Internet Protocol version 4 (IPv4) to Internet Protocol version 6 (IPv6) – a vital step towards the deployment of Smart Sustainable Cities.
Focus Group on Smart Sustainable Cities (FG-SSC)
ITU-T's Focus Group on Smart Sustainable Cities (FG-SSC) concluded its activities in May 2015 with the release of 21 technical reports and specifications. FG-SSC defines a Smart Sustainable City as:
"an innovative city that uses information and communication technologies (ICTs) and other means to improve quality of life, efficiency of urban operation and services, and competitiveness, while ensuring that it meets the needs of present and future generations with respect to economic, social and environmental aspects." Read more about ITU-T's Focus Group on Smart Sustainable Cities (FG-SSC) here.
ITU-T Study Group 5: Environment and Climate Change
SG5 develops standards relevant to ICTs' relationship with the environment, particularly with respect to climate change and electromagnetic phenomena. The group has developed universal charging solutions; means to improve the energy efficiency of networks and data centres; methods of recycling rare-metal components of ICTs; procedures for the sound management of e-waste; and methodologies to assess the environmental impacts of ICTs, both in terms of impacts attributable to ICTs and the emissions-savings enabled by ICTs in other industry sectors. SG5 is also responsible for technical frameworks to safeguard electromagnetic compatibility and to ensure the responsible management of human exposure to electromagnetic fields. Read more here.
ITU-T Study Group 20: Internet of Things and Smart Cities
SG20 is addressing the standardization requirements of Internet of Things (IoT) technologies, with an initial focus on IoT applications in smart cities and communities. SG20 is taking an innovative approach to IoT standardization by placing ITU's technical expertise at the service of national and local governments, city planners and a wide range of vertical industries. The group's work is focused on enabling the coordinated development of IoT technologies, including machine-to-machine communications and ubiquitous sensor networks. Central to this study is the standardization of end-to-end architectures for IoT, and mechanisms for the interoperability of IoT applications and datasets employed by various vertical industries. Read more here.
Life in a Smart Sustainable City
A Smart Sustainable City is probably best defined through an example. Let's take a typical daily struggle: the morning commute to work. You set an alarm on your phone so that you can get to the office early to prepare for an important meeting. But a traffic accident on your route means that you get stuck in traffic and miss the meeting entirely. Instead, imagine if your smart phone alarm was connected to traffic reports and was able to calculate a new route to work for you, and woke you up early to accommodate for the change in schedule so that you arrive at the office on time. Imagine being sent exact directions to an available parking spot. Better yet, imagine if the alarm was also connected to your coffee machine, so it had a fresh pot ready for when you reached the kitchen.
This is what life will look like in a Smart Sustainable City: a fully connected ecosystem which will improve quality of life and access to services. It will have a positive impact on our day-to-day lives – enhanced traffic management systems will certainly improve the lives of most daily commuters! But how will this be developed and deployed?
Connected Cities: Smart Sustainable Cities
"The role played by ICTs (information and communication technologies) is fundamental [to creating a Smart Sustainable City], in part because of their ability to act as a digital platform from which an information and knowledge network can be created. Such a network enables the gathering of information for analysis and a better understanding of how the city works in terms of the consumption of resources, use of services and lifestyle. From this we have a basis for deciding actions and policies aimed at increasing the efficiency of the processes and systems that define our urban centres."
This is an extract from the ITU Blog, Connected Cities: Smart Sustainable Cities. Read the full article here.
Infrastructure and Resources
Smart Sustainable Cities will facilitate better and easier access to services such as healthcare, transportation and education, enhancing the quality of life of a cities' population. The Internet of Things (IoT) will be instrumental in this shift and it is predicted that 50 billion 'things' will be connected to the Internet by 2020 – this means devices and hardware such as coffee machines and wireless cardiac monitors, as well as 'things' such as cattle.
This next generation of services is a natural evolution of today's Internet-enabled environment. However, technological development cannot occur without an adequate infrastructure to reinforce it, which will play a decisive role in the roll-out of Smart Sustainable City services. This relies on two key elements: greater broadband connectivity and sufficient addressing resources. At the end of 2014, 65 per cent of Argentina was online and using the Internet. Our physical geography – including the Patagonian desert in the South and Andes mountain range which runs along the North-West of the country – has created sparsely populated areas which lack financial incentive for private industries to roll-out Internet. Therefore, government intervention is necessary. In addition to the roll-out of fibre networks throughout the country, the Argentine government has launched a number of infrastructure development initiatives to connect the country: Argentina Conectada and the Federal Fiber Optic Network, and the capacity building program 'Conectar Igualdad' which has provided more than five million computers to students in Argentina.
Yet connectivity is only one aspect of making Smart Sustainable Cities a reality. To cope with the increasing demand that this expanded connectivity will require, we must increase addressing resources. However, address allocations are rapidly diminishing in the 32-bit address space available in the current Internet infrastructure, Internet Protocol version 4 (IPv4). Therefore, we need to make a swift transition to Internet Protocol version 6 (IPv6) – the next generation of Internet addressing infrastructure provides 128-bit addressing space, increasing the size by trillions of times and providing sufficient addresses for the foreseeable future. This vast increase will give us the opportunity to connect a multitude of devices to the Internet – from fridges to traffic lights to sewage systems – which will pave the way for Smart Sustainable Cities.
10 years ago, participation in IPv6 discussions in Latin America was very low. We need more relevant engagement in our region because the environment in Latin America is different to other regions – asymmetry, infrastructure, economy for example – so solutions must be defined with this in mind. Consequently, I co-founded the South School on Internet Governance to train the next leaders of Internet governance in the Latin American and Caribbean region. Now approaching its eighth session, the programme offers a one week intensive fellowship to university students and trains them to understand the complexities of Internet Governance and its importance in the future of the Internet. To date, over one thousand students have been trained and many more have participated remotely, increasing the number of representatives in the Internet ecosystem from the Latin American and Caribbean region.
The Internet of Things (infographic)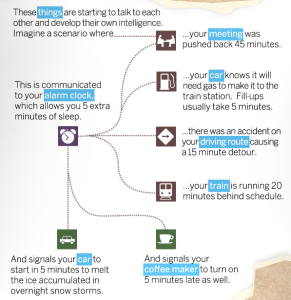 This is a snapshot of Cisco's 'The Internet of Things' [infographic]. The full infographic can be found here.
IPv6 Development and Infrastructure
"ITU's membership recognizes that the rapid adoption of IPv6 is necessary for the continued development of the internet, and has put significant emphasis on facilitating the transition to the deployment of IPv6 – especially in developing and least developed countries. Consequently, this issue has been addressed at numerous ITU conferences, notably the 2008 World Telecommunication Standardization Assembly (WTSA 2008) resulting in the adoption of Resolution 64, 'IP address allocation and encouraging the deployment of IPv6' (subsequently updated at WTSA 2012), and the 2013 World Telecommunication Policy Forum (WTPF 2013) where two of the six opinions adopted by consensus by the multi-stakeholder community concerned IPv6 – with one on IPv6 Adoption, and another on Capacity Building for the Deployment of IPv6."
This is an extract from the ITU Blog, IPv6 Development and Infrastructure Essential for Continued Growth of the Internet. Read the full article here.
Smart Sustainable Cities and Development
Smart Sustainable Cities are an important component to the future of sustainable development. Goal 9 and 11 of the newly adopted Sustainable Development Goals (SDGs) list sustainable transport and sustainable urbanization as key targets. By increasing urban and environmental efficiencies, and supporting easier and better access to healthcare and education, Smart Sustainable Cities have a role to play in the achievement of the post-2015 agenda more widely.
However, the challenge is to convey the need to develop and implement Smart Sustainable Cities in developing countries, as other issues may be more pressing – for example, 2.5 billion people lack access to improved sanitation and 748 million people lack access to improved drinking-water.
Moreover, global statistics show a wide digital divide between developed and developing countries, with Internet users representing 82 per cent and 35 per cent respectively in 2015. Internet connectivity is a key component if we are to reach these global development opportunities via Smart Sustainable Cities. Though developing countries are coming online slowly, there is a concern that the deployment of Smart Sustainable Cities could further polarize development – however, it is for this very reason that they must be a priority for developing countries.
Since, 2012, I have served as the Academic Director of 'Dominios Latinoamerica'. The project aims to encourage Small and Medium Enterprises (SMEs) in Latin American and the Caribbean to utilize the Internet to support commercial development  by providing tutorials, webinars and expert advice on issues and tools such as e-marketing, cloud computing, telecommuting applications and remote participation. Our website and webinars provide news and useful information in three languages (Spanish, English and Portuguese), and once a year, we hold a conference – which is also offered via remote participation – which focuses on online tools for productivity in Latin America and the Caribbean.
ICTs for a Sustainable World
m-Powering Development Initiative
The m-Powering Development Initiative is designed to create a resource and an action plan to deploy ICT services, from m-Health, m-Learning, m-Governance to m-Commerce and m-Sport. In doing so, it can cut costs and reshape, for the better, public service delivery for many millions of individuals, particularly those living in in remote or rural areas of the world. Read more about the m-Powering Development Initiative here.
Challenges: security and worldwide development
A key component to the development of Smart Sustainable Cities is building trust alongside resilient security systems: anything connected to the Internet is vulnerable to a security breech by its nature. This takes on a new significance when everything in your household is connected: what happens if the computer in your fridge is the victim of a security breech? Because everything is connected, does this jeopardize the security of the whole house? Is your privacy secure? In my opinion, these are valid concerns; we won't be able to prevent every attack, but they can be mitigated. Privacy and security are aspects of connected living that users must increasingly take responsibility for and therefore greater awareness and education is necessary. Individual users should keep up-to-date with the latest security precautions to take so they are better prepared against such occurrences.
The security of the city is another challenge that must be addressed in a vigilant and responsible manner. The system as a whole must be resilient and prepared for a variety of conceivable scenarios such as power outages due to extreme weather events, hacks or information breeches – with thousands of terabytes of information produced by the city and its citizens, data access, storage and use must be transparent. A good example is the 'Buenos Aires IoT' program which was launched by the Buenos Aires City Government to promote activities related to Smart City projects based on Internet of Things technology.
Forum on Internet of Things: Empowering the New Urban Agenda
The Forum on Internet of Things: Empowering the New Urban Agenda, held on 19 October 2015 at ITU Headquarters in Geneva, discussed the role that Internet of Things (IoT) plays in relation to converging technologies – including the interlinking of networks, devices and data – for building Smart Sustainable Cities with integrated ecosystems. International standardization through public-private cooperation is more indispensable than ever before to ensure that things, devices and processes speak the same language across multiple environments. The full programme is available here. Listen to the full webcast session here.
Next Generation
I am extremely positive about the development of Smart Sustainable Cities; they will revolutionize how we interact with each other and the world around us. We are already starting to see the benefits of increased Internet connectivity with self-driving autonomous cars being tested in the USA, Singapore and other parts of the world.
We must ensure that the right environment is in place to deploy Smart Sustainable Cities – and for that, we need everyone on board: governments, Internet Service Providers (ISPs), application developers, content providers, and individuals must take greater caution with personal security and privacy.
Connect 2020 Goal 3: Sustainability – Manage challenges resulting from telecommunication/ICT development
The increasing growth rate and extended use of ICTs creates the need for maintaining a stable and sustainable environment that can support the future developments in the area of ICTs and enhance their impact. In this regard, ITU and its Member States commit to minimizing the negative impact of undesired collaterals, such as cybersecurity threats, including potential harm to most vulnerable parts of the society, in particular children, and negative effects on the environment. Read more about ITU's Connect 2020 Agenda here.