Small and medium enterprises (SMEs) are a major economic force, and a valuable source of skills and innovation. Yet over 90 per cent of all start-ups fail. Silvia Dusa, CEO and co-founder of RandomStartup (@randomstartup), explains how she hopes to encourage global entrepreneurship through her own start-up.
For a start-up, the Internet is an invaluable tool. It can be an extremely low cost marketing solution, and is a great place to find growth opportunities and reach customers – but first, you must be discovered. Every day, new start-ups are born, and they are not just limited to Silicon Valley; emerging economies such as India, China and Brazil are experiencing a surge in start-ups. Moreover, millennials are beginning to reject the 'conventional job' paradigm. According to a recent survey of 12,000 people aged from 18 to 30 in 27 countries, more than two-thirds see opportunities in becoming an entrepreneur. However, the ecosystem is very fragile: 90 per cent of all start-ups fail. Creative ideas are abandoned because they are time consuming and results are not always immediate. The motivation to invest resources in a new project decreases as founders fail to reach the right audiences, until the start-up disappears all together.
So I asked myself, how can I help entrepreneurs attract new users? How can I lend them a hand to get their voice heard amongst the millions of global start-ups? As a result, I co-founded RandomStartup to help start-ups get discovered and strive in this competitive environment.
Leading RandomStartup is the fulfillment of my childhood dream: I wanted to own my own business since I was very young. However, I always found it difficult to be a self-starter and reach the early adopters. RandomStartup is my attempt to solve this issue. With RandomStartup, I am building a durable and long-lasting company while helping other entrepreneurs reach their desired audience. I'm building the company using the knowledge I gained during my Bachelor degree in International Business and Economics from Bucharest University of Economic Studies and an exchange in Entrepreneurship and Innovation at BI Norwegian Business School.
Encouraging Entrepreneurship
An entrepreneurial surge is spreading rapidly around the globe. Small and medium enterprises (SMEs) are becoming increasingly vital to the global economy: they account for 99 per cent of all business in the European Union (EU), USA and Japan, and create over 65 per cent of employment opportunities in each of these regions – up to 85 per cent in the EU. They are the creators of most new jobs and are a valuable source of skills and innovation.
It is clear that the innovation and entrepreneurial spirit are abundant around the world, but how do start-ups graduate to become SMEs?
RandomStartup was designed to encourage global entrepreneurship. As its name suggests, RandomStartup is a start-up discovery engine that allows users to find and discover entrepreneurial minds from around the world. We believe that each start-up should have an equal opportunity to be discovered – as such, the order of the start-ups is completely randomized. You can discover us at www.randomstartup.org or on the Apple Store (coming soon to the Google Play Store), where we connect start-ups with users or buyers, entrepreneurs, venture capitalists, angel investors, governments and other start-ups.
RandomStartup is simple to use for both SME entrepreneurs and users.
Every entrepreneur with a minimum viable product and website URL or app can submit his or her idea on RandomStartup for free. After the submission is complete, the information is carefully analyzed and reviewed by hand before being approved by the RandomStartup team. We receive up to 30 new applications every day which provide innovative solutions in different areas ranging from marketing and tourism, to social media and music platforms. Since our launch in September 2014, RandomStartup has profiled nearly 5000 start-ups from around the world. Once a month we sift through the database and remove any companies that are no longer operational in order to keep the website and app up-to-date – we don't want to become a start-up cemetery! As such, there are currently over 2800 start-ups on the RandomStartup portal waiting to be discovered.
RandomStartup's interfaces are user friendly: you just need to press one button to discover a brand new start-up! With the RandomStartup mobile app, you can customize your search using keywords to discover great start-ups. We don`t use predefined words so you can write whatever comes in your mind such as Internet of Things (IoT), tourism, travel or innovation! The app also has a save button so you can come back later to revisit a start-up that you like.
EMERGE Partnership

The Emerge Partnership brings together a core group of stakeholders who are actively engaged in supporting local digital innovation and entrepreneurial ecosystems, providing thought-leadership and best-practice advice to help inform government policy-making. Emerge Partners include representatives from the United Nations and other international organizations, the ICT industry, incubator/accelerator managers as well as development/innovation practitioners. Learn more about the initiative here. Partners Communiqué outlining recommendations and a Call to Action can be found here.
Entrepreneurship Competition Winner
Winning the Entrepreneurship Challenge for the 2015 ITU Telecom World Young Innovator's Competition was a great source of motivation – and I would encourage any start-up to apply! It helped me to approach new ways of thinking about my company, enabled me to meet inspiring entrepreneurs from around the world. The competition is an enabling ecosystem for young entrepreneurs from around the world to meet with industry experts and gain valuable tips on growing a start-up. The platform can be of particular use to entrepreneurs from developing countries, helping them to flourish and compete on the international stage – and vice versa. Thanks to Young Innovator's Competition, RandomStartup receives more start-up requests, not only from USA and Europe, but also from Africa and Asia.
At the event in Budapest, Hungary, I met the 2014 winners, making new connections and gaining valuable advice. One previous winner that I met was Hemant Purohit, founder of SoMeC (Social Media Coordination) which runs on an algorithm that he developed to find social influencers. As social influence has a bearing on discovery – especially when you consider the power of celebrity endorsements – I was able to learn a lot from his experiences.
Young Innovators Competition
The Young Innovators Competition is an annual ITU Telecom initiative aimed at talented young social entrepreneurs using technology creatively to meet a range of real-life developmental challenges. The 2015 competition was divided into three challenges: Single Board Challenge, Conflict Challenge; Entrepreneurship Challenge. The winners of each challenge joined us at ITU Telecom World 2015 in Budapest, Hungary, taking part in a full programme of entrepreneurship workshops and mentorship sessions with industry leaders, as well as networking, showcasing and pitching opportunities.
Our 2016 competition is already up and running, looking for the most exciting ideas or startups in response to a series of global developmental challenges between now and ITU Telecom World 2016 late next year.
Global Impact
Entrepreneurs are searching for different ways to promote their products and services, largely because many of them have international applicability. There is a preponderancy to think that the USA and Europe are the only hubs of innovation. The reality is a little different. Many countries in Africa and Asia are establishing themselves as innovation hubs. They are harnessing the power of mobile and the Internet to deliver local solutions to local problems in local communities, but people tend not to pay attention to these increasingly innovative hubs.  RandomStartup hopes to change that. The platform facilitates global connections, and is already having a big impact for new enterprises: I have received messages from companies around the world who have told me that they are received more page views and customers thanks to being featured on the platform.
Additionally, building a start-up can be incredibly difficult: one or two people may be working to develop a brilliant idea, fitting it in around other jobs or commitments. They may also lack the financial resources to take the product to the next level, leaving them unable to hire new employees or implement new designs and concepts. It is very easy for a start-up to fail in these circumstances. RandomStartup facilitates feedback and skills exchanges between start-ups which can enhance the survival rate of a start-up and ensure that new, innovative and creative ideas get discovered.
Budapest Call for Action
On 13 October 2015, Ministers and Government representatives met for the 'ITU Telecom World '15 – Budapest Ministerial Meeting' to discuss "accelerating innovation for social impact: mobilizing global entrepreneurship to implement the Connect 2020 Agenda". The agreement, the Budapest Call for Action, emphasized the importance of fostering entrepreneurship and the role of SMEs. Read the full Budapest Call for Action here. Read more about the Connect 2020 Agenda here.
Future
We want to create the biggest world start-up platform by growing start-ups with start-ups, and predict that we will have 400,000 start-ups on RandomStartup by 2016.
To help grow the platform, we plan to introduce new features and data analysis. We hope to provide tailored statistics about start-ups in different regions – healthcare in Berlin, for example – to help map international innovation hubs.
We also hope to create an open innovation space, allowing more meaningful partnerships between start-ups and big companies which is invaluable for both parties. For example, in 2002, Pringles wanted to print trivia and images on their potato chips. As they didn't have the knowledge in-house and commissioning a study was considered too expensive, they used their network to find a company with a ready-made solution. Through this network, they discovered a bakery in Italy run by a university professor who had already developed a method for printing edible images on baked goods such as cakes and cookies, which only needed a few adjustments to resolve Pringles' request.
More than anything, we hope to continue to be a platform that connects start-ups with the people they need to help grow their business.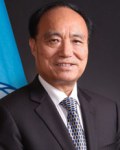 "As the digital transformation continues to bring unprecedented potential for socio-economic growth, there is a very real danger that the digital divide between the connected and the unconnected will deepen, rather than disappear. Economic policies that promote innovation and entrepreneurship will be essential to bring ICTs to every person and business in the world and kick-start rapid growth." Houlin Zhao, ITU Secretary General.