17 May: ITU's 150th Anniversary Celebrations
---
17 May marks the anniversary of the signing of the first International Telegraph Convention and is observed annually as World Telecommunication and Information Society Day. 2015, marks the 150th anniversary of the International Telecommunication Union since its creation in Paris in 1865.
ITU's 150th Anniversary celebrations will be held on 17 May 2015 in Geneva at the Centre International de Conférence Genève – CICG (see access map) from 1230 to 1800 hours. Online Registration  to attend the event must be made by the Designated Focal Points.
Programme​

​17 May: 12h30 – 18h00, CICG, Geneva, Switzerland

12h30
CICG opens to participants
13h00
Arrival of VIPs
13h30

Opening Ceremony
Welcome Address by ITU Secretary-General Houlin Zhao
Message from UN Secretary-General Ban Ki-moon
Keynote Speech: Ms Doris Leuthard, Minister of Environment, Transport, Energy and Communications, Switzerland
Historical ITU150 Video
ITU150 Awards Ceremony and high-level discussion
Recognition of ITU Founding Member States
Recognition of long-standing ITU industry members

15h15
Interactive Innovation Break
16h15

ITU150 App Q&A with audience
Video of global 150 anniversary celebrations
Recognition of ITU150 sponsors
One Day on Earth video
Discussion Panel: ICTs driving a sustainable future
Greetings from Outer Space and global celebrations

18h00
Closing Ceremony
Anchored by Imogen Foulkes, BBC correspondent in Switzerland
This year, 2015, marks the 150th anniversary of the International Telecommunication Union. Established in 1865, ITU has reaffirmed its reputation worldwide as one of the most resilient and relevant organizations and continues its work as the specialized agency of the United Nations, and its oldest member, dealing with state-of-the-art telecommunications and information and communication technologies. The remarkable history of ITU exemplifies its stellar role in connecting the world to the most advanced and innovative means of communication, from the days of the telegraph to the Internet and mobile broadband, which now allows us to be in touch anytime, anywhere with friends, family, colleagues and even things. As we celebrate our 150th anniversary, we look back with pride at our accomplishments. And we look forward to the future as we respond to the rapid changes in the global ICT environment. The innovations with and from ICT and the implementation of these technologies pervade every aspect of our lives. ICTs are also the catalysts for shaping the post-2015 development agenda and achieving our goals for sustainable development. Throughout 2015, we will organize several events highlighting ICTs as the drivers of innovation at ITU and around the world to mark this landmark 150th anniversary. I invite you to celebrate with us and participate in the events, providing your support as well as your contributions in order to fulfil our commitment to connect the world. I wish you a very productive 150th anniversary in 2015.
Houlin Zhao
ITU Secretary-General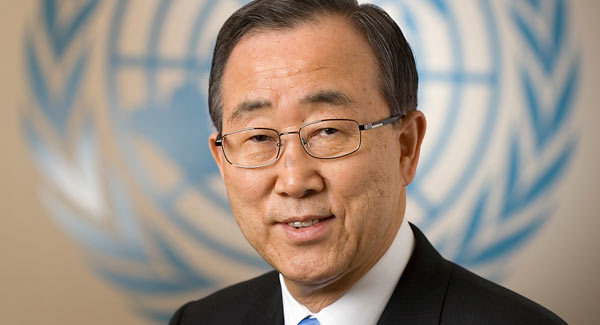 Congratulations on the 150th anniversary of the International Telecommunication Union! ITU has earned its global reputation for resilience and relevance. I applaud the agency's many contributions as the oldest member in the United Nations system. Telecommunications – as well as information and communications technology – drive innovation. The digital revolution has transformed our world. We communicate more easily than ever before. But we need to be more than connected – we need to be united. That is why the United Nations is mobilizing the world to forge a bold, new agenda for sustainable development. ICTs can help achieve its goal of a life of dignity for all. New information and communications technology can help boost the economy and protect the environment. This is a milestone year – the 150th anniversary of ITU, the 70th anniversary of the United Nations, and the potential starting year for transforming our world. Let us work together to harness the power of technology for our common future. Thank you.
Ban Ki-moon UN Secretary-General
On the occasion of ITU's 150th Anniversary, ITU150 Awards recognize individuals from government, ICT industry, academia, and civil society that have contributed to improving lives of world citizens through ICT innovations developed, promoted or implemented by ITU. Learn more